"We had a wonderful time. The hospitality was excellent and the strawberries superb. Hopefully, we will come again soon."
Welcome to Kilnpotlees
Kilnpotlees is a very secluded and peaceful place to enjoy a self-catering holiday. Despite the secluded location, Kilnpotlees remains easily accessible being only four miles from the charming market town of Lockerbie and the M74/M6 motorway. The cottage sleeps two and benefits from the accommodation being on the same level and has been graded by the Scottish Tourist Board as three-star standard.
A self catering holiday in Scotland to remember
Situated in the beautiful Dumfriesshire countryside and atop one of many rolling hills – you can gaze for hours at the stunning views. Whether you come for the scenery, wildlife, walking, cycling, country sports (we can arrange these for you), golf or simply to tour the area – Dumfries and Galloway has it all!
Fresh, home-made loaves, meals and cakes etc., can be made to order. You can also purchase home-made marmalade, fruit and vegetables (when in season) and free range eggs. Our attractive garden may even tempt you to buy some plants including specialist Primulae.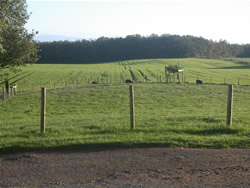 "The accommodation was very good and we enjoyed the hospitality!"